According to the results of 6 months of 2022, Tawhidbank earned 9,1 mln. somoni of net profit. Real growth amounted to 107%, which is 2 times more than the same period of last year
The Bank's assets amounted to 237.8 mln. somoni, showing an increase of 26%.

The liquidity ratio of the NBT: K2.1 as of 30/06/2022 amounted to 221.15% (with a regulatory minimum of 40% for Islamic banks)
Capital adequacy ratio K1.1 - 60.1% (with the NBT's regulatory minimum of 12%)


Positive ROA and ROЕ indicators amounted to 3.8% and 8%, respectively.
Earnings per share (EPS) increased by 4 p.p. compared to 2021 and reached 10.7% in 2022
The following is comparative ROA/ROE/EPS data for 06/2020, 2021, 2022.


The balance of the financing portfolio amounted to 48 mln. somoni and increased by 165.1%.
The total amount of financing for 6 months of 2022 amounted to 33.4 mln. somoni. The net income from the financing portfolio doubled compared to the previous year.
The share of NPL is less than 1%.
Growth dynamics of all types of financing products balance by months from 30/06/2021 to 30/06/2022 (in mln. somoni):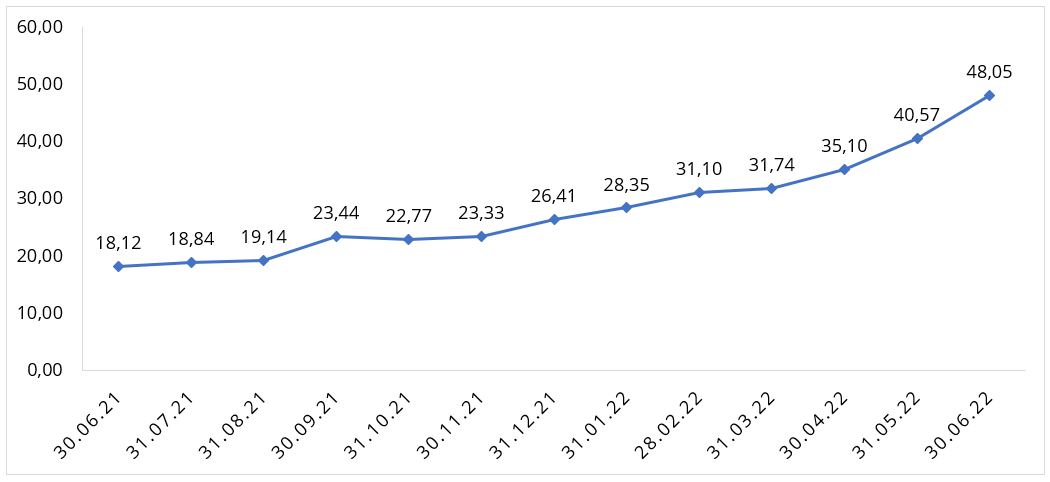 Growth dynamics of murabaha financings by months from 30/06/2021 to 30/06/2022 (in mln. somoni):


Growth dynamics of financing through «Sabz» credit cards by months from 30/06/2021 to 30/06/2022 (in mln. somoni):


The balance of the bank's deposit portfolio for the reporting period is 50.3 mln. somoni.
Term deposits mudaraba showed an increase of 17.6 times, compared to the same period of 2021.
Deposits by types growth dynamics from 30/06/2021 to 30/06/2022 (in mln. somoni):


The bank's client base has a growing trend for both corporate and retail clients and has reached almost 24,000. Compared to the same period of last year, growth was demonstrated by more than 6 times.
The graph below shows the growth dynamics of the bank's client base from 30/06/2021 to 30/06/2022 (total amount):